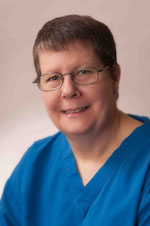 I have been on a healing journey from fibromyalgia since 1985. During those years, I have researched and used many different natural therapies. I was barely functional when my journey began, and now have more than enough strength and energy to have a successful, full-time healing bodywork practice.
I started studying the therapies I now provide to my clients in 2002. I am an avid lifelong learner, and am constantly adding new healing modalities to my practice to better serve my clients. My experience includes 14 years as a licensed Clinical Laboratory Technologist working in microbiology, hematology, and clinical chemistry laboratories in several Harvard teaching hospitals. This experience gave me a balanced viewpoint on the benefits of both mainstream and alternative medicine. Both approaches provide answers to healing. The specific answer chosen for treatment must fit the client's individual needs.
My passion is to extend the physical, healthy freedom I have found to others. I offer you my experience, training, and skills to lessen your pain and increase your ability to participate fully in life. My work with clients' chronic pain, trauma, and other physical issues demonstrates these therapies can have remarkable effects on others as well.
Make an appointment today and see how great your life can be when you are free of pain!
Training Record for Mimi Rhys LMT
Shamballa Multi-Dimensional Healing
degrees 1, 2, 3, 4
• Master Healer Teacher 3/9/2002
New England Institute for Reflexology and Universal Studies (Eastern Standard Reflexology)
• 376 hours Certified Practitioner of Reflexology 1/25/2008
Spa Tech Institute Holistic Massage Program (Swedish massage and Polarity Level 1)
• 600 hours Certificate 7/8/2008
Upledger Institute for CranioSacral Therapy -Dr. John Upledger D.O. All classes 24 hours each
• CranioSacral Level I 8/2008
• CranioSacral Level II 8/2009
• SomatoEmotional Release Level I 3/2010
• SomatoEmotional Release Level II 5/2011
Craniosacral Therapy Alliance Don Ash PT 24 hour class
• Craniosacral Therapy Around Death and Dying 9/2010
Chikly Health Institute - Dr. Bruno Chikly MD D.O. (honorary) and Alaya Chikly LMT All classes 24 hours each
• Lymph Drainage Therapy Level I 7/2008
• Lymph Drainage Therapy Level 2 12/2008
• Lymph Drainage Therapy Level 3: Deep Pathways, Viscera, Articulations, Organ of the Sense 8/2011 and 10/2011
• Lymph Drainage Therapy; Advanced Level 1; Interstitial Fluid and Blood; Applications to Humans and Animals 8/2013
• Heart Centered Therapy 1 Mastering Dialoguing Skills 4/2009
The Barral Institute - Dr. Jean-Pierre Barral D.O.
• VisceroSomatic Link 10/2008 14 hours
• Visceral Manipulation: Abdomen 1 3/2009 24 hours
• Visceral Manipulation: Abdomen 2 3/2013 24 hours
• Visceral Manipulation: Pelvis 8/2014 24 hours
Additional study with Lenore Shapiro, PT Anatomical Arts, North Branford, CT
• advanced cranial work and pelvic corrective therapy 11/2010